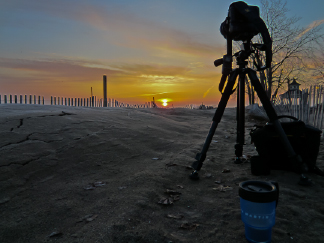 Looking for the best tripod for your next timelapse trip? Already have a tripod and wondering if it's a good fit for timelapse. Let's check it out. Don't worry if it's an old monster, that might work in your favor.
For time-lapse think big. Think heavy. Think solid. Be creative.
Whatever you need to do to lock down your camera to get the angle and composition you envision, without any movement whatsoever throughout the shot is all that really matters. Buy used, check craigslist, eBay
, ask friends, look for studios (they cycle gear and go in and out of business all the time) for deals.
Focus on stability, and gain confidence using it in different conditions. That's it. Even if the worst case happens and you get a little movement, image stabilization software is now so common and easy to use it's no big deal. More on that in the post processing section.
Portability
Sometimes the shot is further from the car than convenient, like 7 miles up a steep incline convenient, what then? Sometimes the best tripod for DSLR time-lapse is not exactly the best tripod for you (and your back).
[aside]This post on What makes a good tripod is part of a larger road-map outlining timelapse photography called The Massive Time-lapse Photography How to Guide…[/aside]
Here's a few things you may want to consider when buying a portable friendly tripod. Think "fun" rather than "endurance".
Keep in mind a good tripod that meets your needs will outlast several cameras, so possibly budget a little more time and I hate to say it but cash to this category. Here's a few thought to spearhead your research:
What makes a good portable tripod?
Start with the legs: carbon fiber
Carbon fiber tripods strike a good balance between weight, strength, vibration reduction, and cost. While newer high-end aluminum designs are good and less expensive, experience with carbon fiber has shown that a heavy duty carbon fiber tripod with some stability hacks, is your best line of defense against time-lapse shake in changing weather conditions even with your heaviest lens. Carbon fiber is strong but not heavy so you will be more likely to lug it the 7 miles into the wilderness and up the side of a small mountain to that secret spot that overlooks the entire city.
Strength and sturdiness: yes
Models are usually grouped by how much weight they are designed to support. The tripod's maximum load should exceed the weight of your camera and attached accessories (yeah, all the stuff hanging off your camera). No sagging or flexing.
Height and versatility: yes
You want a tripod tall enough to allow shots as high as you want without extending the center column, and low enough by allowing the center column to be removed (or swapped with a shortened one) and legs that fully spread vertically. I find low to the ground time-lapses much more interesting when unchanging foreground objects are included in the scene. Don't forget to consider those low angles.
To offset or not to offset: offset center-post
This was a tough recommendation because I do believe that some stability is sacrificed for this feature, but depending on how you like to shoot it might be worth it. In some models the top spider (or where the legs connect) is configured to allow the center column to adjust to the side as well as up and down. I like the added flexibility this allows to get those weird angle shots or shots straight down on a subject (especially for macro photography). Try one out and see if it's something you would use. PHOTO
Compactness: maybe…
Usually the more sections a tripod's legs have, the smaller it will be when collapsed. Good right? Well this feature is usually more expensive and sometimes sacrifices stability when fully extended . Unless you are planning a lot of air travel or backpacking, I'd recommend stability and cost over a moderately more compact unit. It all depends on how comfortable a few extra inches are when you hit mile 7 on that steep incline.
***Amateur tutorial warning*** This was one of the first video tutorial I ever made, hence the Star-Trek beam me in effects and cheesy music. Just sit back and appreciate the quirkiness. Newer vids are in the works. Thanks. -Ryan
What have you found to be the most important part when buying a tripod?
Do you have a particular trusty model that you would recommend to other time-lapse photographers?
Specific reviews in the works:
Manfrotto MK293C4-A0RC2 4 Section Carbon Tripod Kit with Quick Release Ball Head (amazon)
Benro A0690T Travel Angel Tripod Kit with Aluminum Twist Lock Legs with BH00 Head (amazon)
Manfrotto MK294C3-A0RC2 3 Section Carbon Fiber Tripod Kit with Quick Release Ball Head (amazon)
Dynamic Perception D-Pod Micro Tripod (link)
Return to The Massive Time-lapse Photography Tutorial:
[includepost id="177″][/includepost]